Our Program
Full Body 30 Day Vegan Cleanse is based on over 20 years of helping my patients overcome health problems and be able to get their health back. This vegan cleanse is about eating real food everyday – not starving yourself. Full Body 30 Day Vegan Cleanse consists of a book that is
your step – by – step guide to eating great tasting vegan meals and 4 herbal formulas.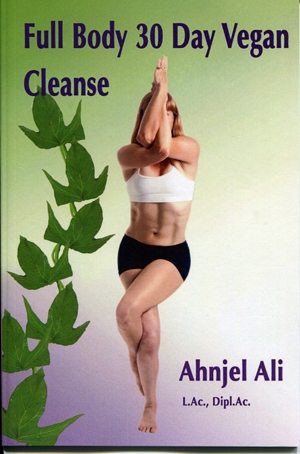 The combination of the 4 herbal formulas along with the foods that you eat brings about numerous changes in your body.
The book that comes with Full Body 30 Day Vegan Cleanse is literally a 30 day guide with recipes for every meal.
The 4 herbal formulas were specifically designed for this Cleanse, as they will change the health of some of your organs – your lymph system, large intestines, liver and kidneys.
Along with all the recipes for the meals is a list of optional snacks, fruit smoothie recipes, vegetable juice recipes, salad dressings and vegan alternatives to foods most people think are staples in their diet.
This program can change your life!
I've received feedback from many people about how much they have loved being able to simply follow this blue print. They didn't have to think about what to eat and plan meals. All they had to do was follow the plan, making it very easy. And they loved that they were eating Great tasting vegan meals!
Husbands and wives have done Full Body 30 Day Vegan Cleanse together. Friends have done this Cleanse together. Kids have enjoyed the foods, as my kids do since this is how we eat.
Changes you might see include:
A weight loss
An improvement in your skin
Healthier and shinier hair
Changes you could see on blood work include:
Lower blood glucose levels
Lower cholesterol
Lower triglycerides
Reduced C-reactive protein/inflammatory marker
Reduced antibodies
Changes you could feel include:
More energy
Clearer thinking
Reduced or eliminated gas/ bloating/constipation/diarrhea
Reduction in allergy symptoms
A reduction or elimination of headaches or even migraines
A reduction or elimination of body aches
Reduction in PMS
One more important medical change:
Even More Reasons– The Centers for Disease Control and Prevention (CDC) has a Web site with great information
about America's health and how our health has changed. This Web site is full of useful – and horrifying – statistics on obesity rates and associated health problems over several decades among the America population. Just reading this Web site should be enough to make people change their lifestyle.
RECOMMENDED PRODUCTS