Blog
Category Archives:
eating vegan
The human Microbiome is your body's environment – the inside and the outside. Your body's environment is what keeps you healthy, or what allows diseases to occur. Everyday you make choices that affect your Microbiome. Your body's environment consists of the bacteria, fungi, viruses, protists and archaea that live in your body and on your body. We are supposed to have health promoting organisms, bacteria, viruses, etc., but if the health promoting bacteria become outnumbered by un-healthy strains of bacteria, viruses, or fungi, inflammation ensues.Your liver health and your Microbiome are integrally connected. Inflamed tissues are an altered Microbiome, which then is an easier environment for un-healthy organisms to thrive in. The longer the environment is inflamed for and houses pathogenic bacteria, viruses,    fungi, protists and archaea the more the environment gets altered, making it progressively easier for  un-healthy strains of organisms to thrive which then leads to disease. Think of the perfect storm, and the merging of environments that are catalysts to each other.
How Does Your Microbiome Affect Your Liver?
Liver health and your Microbiome are directly effected by your intestinal tract – and it's own Microbiota. From the intestines blood is routed to the liver through the hepatic portal vein. This blood being delivered has the absorbed nutrients from digested food and also carries toxins and medications from the intestinal tract to the liver. Studies have shown the liver being effected by bacteria and fungi in people with unhealthy bacterial and fungal over growths in the intestinal tract. These pathogenic organisms do trans-locate and then cause problems to the liver which cumulatively can contribute to cirrhosis.
Multiple studies on people with cirrhosis have all proved that compared with people who do not have cirrhosis, the people with cirrhosis have bacterial strains not found in the people who do not have cirrhosis. Also, the people with cirrhosis have  many different types of strains of bacteria, not just 10-20, but upwards of 30-40 of these are strains of bacteria that people that don't have cirrhosis do not have.
Liver Health and Your Microbiome as relates to Bacterial Toxins
A very common toxin from bacteria is called the Lipopolysaccharide. This toxin does trans-locate from the intestinal tract to the liver and it is known to cause liver damage as well as damage to other parts of your body. Often the term "endotoxin" is used in reference to toxins generated from bacteria. It is known that Lipopolysaccharides, endotoxins, cause changes to the immune system, the lymph system, brain chemistry, the kidneys, the heart, the arteries and veins, reproductive hormones as well as the liver.
A great research study by Seki and colleagues proved that the intestinal bacteria/ microflora was the main source of Lipopolysaccharides entering the liver through the portal hepatic vein and this proved to be "an important prerequisite for the development of liver fibrosis during chronic liver injury."1 This research is very important in showing how your liver health and your Microbiome are integrally related. For more detailed information on how the gut Microbiome affects your brain please click here.
In another great article in the British Journal of Pharmacology, "The multiple organ dysfunction syndrome caused by endotoxin in the rat: attenuation of liver dysfunction by inhibitors of nitric oxide synthase."2 The researchers found that Lipopolysaccharides "caused a profound hypotension associated with decreases in cardiac output and oxygen delivery, lactic acidosis, renal and liver dysfunction, and thrombocytopenia.2. This means that blood pressure was reduced enough to cause a low heart rate resulting in not enough oxygen to the entire body resulting in lactic acid build up negatively effecting the kidneys and liver and causing low platelets resulting in lack of clotting.
Liver Cirrhosis
Liver cirrhosis is prevalent worldwide, and mostly preventable. Liver cirrhosis is the result of a combination of a number of chronic liver diseases. Cirrhosis happens over a number of years. And once liver cirrhosis occurs, the cells of the liver die and either a person gets a liver transplant or they die. Because it does take years for cirrhosis to develop, and there are not glaring symptoms until there is a really big problem, most people do not even realize they might be heading that way.
Contributing Factors to Poor Liver Health
A diet high in processed foods is very taxing to the liver because of the man-made chemicals in processed foods. A diet high in trans-fats is also very taxing to the liver. All pharmaceutical medications, even over the counter medications, are very demanding on the liver and with long-term use end up causing liver problems. It is possible to keep your liver healthy through your lifestyle and Full Body 30 Day Vegan Cleanse can teach you that lifestyle.
Create Liver Health
Liver health and your Microbiome are mostly under your control. You can live a lifestyle that prevents you from getting cirrhosis. Eating foods that are plant based, especially deep green leafy vegetables, are very good for your liver and do make a difference to keeping the cells of the liver healthy and able to break down substances. Seeing a porfessonal Herbalist to help maintain your liver health and your Microbiome can keep you very healthy and make a tremendous difference to your entire body.
1 Seki E, De Minicis S, Osterreicher CH, Kluwe J, Osawa Y, Brenner DA, Schwabe RF. TLR4 enhances TGF-beta signaling and hepatic fibrosis. Nat Med Nov 2007; 13(11):1324 – 32; dx.doi.org/10.1038/nm1663; PMID: 17952090
2 * Thiemermann C, * Ruetten H, * Wu CC, * Vane JR.: Br J Pharmacol. 1995 Dec;116(7):2845-51.
The multiple organ dysfunction syndrome caused by endotoxin in the rat: attenuation of liver dysfunction by inhibitors of nitric oxide synthase.
Eating vegan and feeling great – this could be you!
Ask yourself," Do I love how I feel everyday?" You will by eating vegan!
By eating vegan you can wake up feeling great everyday!
I love how I feel when I wake up. And you can feel just this fantastic throughout the whole day! I know you can because this is how my lifestyle allows me to feel and everyone who has done Full Body 30 Day Vegan Cleanse feels just this great! I love how I feel through the day. I love how I feel after a demanding workout. And I love how I feel after  drinking one of those deeply satisfying green vegetable juices I make.You will feel the same way – most of us who have done the Full Body 30 Day Vegan Cleanse crave the green vegetable juices listed in the book. I love how I feel after I eat the very healthy lunch I made.
All the vegan foods my boys eat has made them very healthy young men. And it shows in all their athletics.
Thanks to eating vegan meals and foods, my husbands health is not a source of concern. He is incredibly healthy. That is a huge source of security. I know many women who fear for their husbands health as they get older because for years they haven't taken care of themselves.
Eating vegan, you will make great choices for your family that will make a difference now and very importantly, for the years to come. I love the choices I have made for myself and especially for my family. This is my life-long commitment and it is worth the time I put into it.
I truly love every day in my office when I get to help people get healthy! 
The reason I love being able to help people get healthy is because I know they will enjoy their life so much more!

I feel that every person can feel great everyday. Every person can love feeling great everyday. Could your life be better if you felt better everyday if you started eating vegan? If you answered "Yes", then please let Full Body 30 Day Vegan Cleanse help you to a healthier lifestyle. It is easily ordered from the website:
fullbodyvegancleanse.com/eating vegan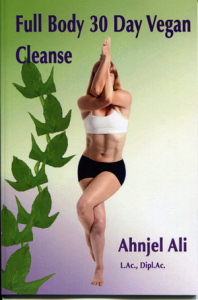 Disclaimer
This book is not a medical manual. It is intended as a reference for a healthy lifestyle. The information is given to help you make informed choices about your health. This Cleanse is not meant as a substitute for any treatment that may have been prescribed by your doctor. If you suspect that you have a medical problem, you are urged to seek competent medical help. If you are pregnant or nursing, it is recommended that you do NOT do this Cleanse. This is not the appropriate time to make radical changes to your body. These herbal formulas are NOT to be used by a pregnant woman. All recommendations are believed to be effective, but since the actual use of herbs by others is beyond the control of the author, no expressed or implied guarantee as to the effects of their use can be given nor liability taken. The publisher and author expressly disclaim all liability connected with goods/services/ products obtained with this Cleanse. Any use of the information in this book is at the reader's discretion.
Notice: If you have a corn allergy, do not take these herbs. (They are processed with corn starch.)
All rights reserved. The content on this website may not be reproduced in whole or in part, without written permission from the owner, except by a reviewer who may quote brief passages in a review; nor may any part of this website be reproduced, stored in a retrieval system, or transmitted in any form or by any means electronic, mechanical, photocopying, recording, or other, without the written permission from the publisher. Cover photo: courtesy of William Short