Blog
Comments Off

on Choose Health – Option 1: Full Body 30 Day Vegan Cleanse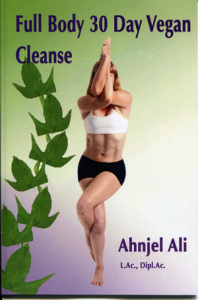 When it comes to taking care of your body, your health, you have 2 options. Option 1: take great care of your body and you will live your life in health as you get older. Or, Option 2: don't put any time and thought into taking care of your body, and you will have multiple diseases the older you get.
I am not interested in Option 2! I do not want to battle, heart disease, high blood pressure, diabetes, or stroke. I do not want to battle everyday feeling like absolute crud! That is not how I want to live my life. It is also very important to me that I raise my boys in a healthy way and teach them the best way for them to take care of themselves for their future.
I choose Option 1. I actually chose this option even when I was 14 years old. I wouldn't take an anti biotic if my Mom took me to the doctor for a little cold. I knew that my body was going to get rid of that little cold. Also at age 14, I became a vegetarian. Then at 27 years old I enrolled in acupuncture college. Knowing there was so much more about the human body that could be learned than just what the Western medical model was teaching. I wanted to help people get healthy.
Option 2 comes with years of taking pharmaceutical medications. All of which have side effects and are the catalyst for elderly people needing a second, third, fourth, etc medication to address the problems created by the first medication.
Option 2 comes with years of living a very unpleasant quality of life. You might be completely unaware of the details of what life lived un-healthfully is like. The complete effect of how your life is effected everyday. Or, the expense involved. But, ask co-workers, and friends with older parents. Or talk to someone with diabetes. Or talk to someone with heart disease. Or talk to someone with high blood pressure and ask them what the side effects are from the medication they are taking that controls their blood pressure.
I want to be that 80 year old that is still working out at the park. Still taking yoga classes. Still is traveling happily to great places in this world!
And I already know, my kids are counting on it!

Live in Grace
Disclaimer
This book is not a medical manual. It is intended as a reference for a healthy lifestyle. The information is given to help you make informed choices about your health. This Cleanse is not meant as a substitute for any treatment that may have been prescribed by your doctor. If you suspect that you have a medical problem, you are urged to seek competent medical help. If you are pregnant or nursing, it is recommended that you do NOT do this Cleanse. This is not the appropriate time to make radical changes to your body. These herbal formulas are NOT to be used by a pregnant woman. All recommendations are believed to be effective, but since the actual use of herbs by others is beyond the control of the author, no expressed or implied guarantee as to the effects of their use can be given nor liability taken. The publisher and author expressly disclaim all liability connected with goods/services/ products obtained with this Cleanse. Any use of the information in this book is at the reader's discretion.
Notice: If you have a corn allergy, do not take these herbs. (They are processed with corn starch.)
All rights reserved. The content on this website may not be reproduced in whole or in part, without written permission from the owner, except by a reviewer who may quote brief passages in a review; nor may any part of this website be reproduced, stored in a retrieval system, or transmitted in any form or by any means electronic, mechanical, photocopying, recording, or other, without the written permission from the publisher. Cover photo: courtesy of William Short