Blog
Comments Off

on Get Healthy Eating Food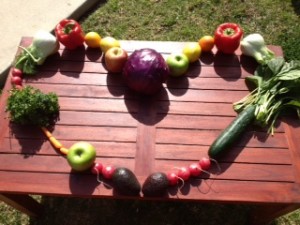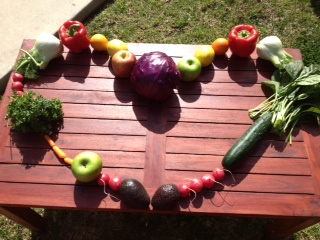 Making choices daily about what to eat is a necessity of our human condition. Since we all have to eat, it comes down to what you are basing your choices on.  Are you making conscious choices or are you making unconscious choices? Do you want to feel great everyday or is this something you never think of?
Get Healthy by Eating Food Not by Starving
Starving yourself won't teach you how to be healthy and starving yourself is not an enjoyable way to live your life. There are some people living their life on smoothies and protein shakes as their meals on a weekly basis. This is not an enjoyable way to go through life. Food is very enjoyable. You don't have to surrender the pleasure of food to be healthy.
Making Conscious Choices to be Healthy
The only way any person consistently eats healthfully is by making a conscious choice-having that moment of deciding to get healthy eating food. Without having that moment and making this decision, it doesn't happen. It is important to figure out your reason for wanting to eat healthy food. Maybe you always want to be healthy because you love feeling great (this is definitely my priority); or maybe you want to stay at a healthy weight (this is definitely a priority); or maybe you want to ward off the now very prominent chronic diseases that are prevalent in the industrialized societies due to diet (definitely a priority for me) (these are all reason 1A for me). Or maybe you already have some health issues and you want to change your health status. All excellent reasons to pursue a healthy lifestyle.
The Billion Dollar Food Industry
It is a very important step to make the decision to be healthy because without your conscious decision, you will become unhealthy. The food industry is a multi-billion dollar industry, and they do work for those billions. They work harder than most people know. The food manufacturers spend millions of dollars researching what foods, flavors and combinations people want the most. The food industry wants to make foods that people crave and will buy again and again. The big food corporations know that foods that are high in salt, sugar and fats will keep you coming back for more. Not only that, but foods are produced to be the tri-fecta, they are called super-saturated by the industry because these foods are loaded with fat, sugar and salt. These are the foods that many people will buy again and again. Think a double hamburger with double cheese and bacon. Think pizza with cheese in the crust! Does anybody really need more cheese? No one will get healthy eating foods that are loaded with salt, sugar and fats. But they will become very un-healthy.
 $20-60 Billion Spent on Weight Loss Yearly
The food corporations don't care if you get high blood pressure, or diabetes, or a stroke. The food corporations don't care if you need to see your doctor once a month and end up on 4 prescription medications by the time you are 55 which leads to 8 prescriptions by the time you are 65. The food corporations don't care if you get cancer.
After buying foods that are not contributing in a positive way to your life, you will then be faced with an ugly financial situation. The figures for how much is spent annually for weight loss on diet programs, gym memberships, books, surgeries, and diet pills varies depending on the source, but ranges from $20-60 billion! That is a lot of money every year for something that is mostly preventable.
You will not get healthy eating food that is processed. If the bulk of your diet is foods that are from manufacturing companies, you will not be healthy. This is a fact, not an opinion.
 Can You Get Healthy Eating Food?
Yes, it is thee only way to get healthy. You can't get healthy by starving, since that will lead to death. So, it is a matter of eating foods that provide the nutrients your body needs to be its best. To get healthy eating food all you need to know is the right foods to eat.
How to Re-Set Your Body
The human body is truly amazing and yes, it's very forgiving too. If you change your diet to healthy foods your body will respond. Yes, you really can get healthy eating food. Yes, you can really stay healthy for life!
Disclaimer
This book is not a medical manual. It is intended as a reference for a healthy lifestyle. The information is given to help you make informed choices about your health. This Cleanse is not meant as a substitute for any treatment that may have been prescribed by your doctor. If you suspect that you have a medical problem, you are urged to seek competent medical help. If you are pregnant or nursing, it is recommended that you do NOT do this Cleanse. This is not the appropriate time to make radical changes to your body. These herbal formulas are NOT to be used by a pregnant woman. All recommendations are believed to be effective, but since the actual use of herbs by others is beyond the control of the author, no expressed or implied guarantee as to the effects of their use can be given nor liability taken. The publisher and author expressly disclaim all liability connected with goods/services/ products obtained with this Cleanse. Any use of the information in this book is at the reader's discretion.
Notice: If you have a corn allergy, do not take these herbs. (They are processed with corn starch.)
All rights reserved. The content on this website may not be reproduced in whole or in part, without written permission from the owner, except by a reviewer who may quote brief passages in a review; nor may any part of this website be reproduced, stored in a retrieval system, or transmitted in any form or by any means electronic, mechanical, photocopying, recording, or other, without the written permission from the publisher. Cover photo: courtesy of William Short