Blog
Comments Off

on Healthy Eating Habits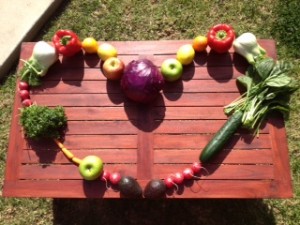 Healthy Eating Habits
Why would you want healthy eating habits? If you live in the United States why should you take the time to eat healthfully when it is much more convenient to eat fast food? Why would you care about eating healthfully if you have insurance and your bills will be covered anyway? Why should you eat healthfully when there are prescription medications for almost anything that could go wrong with your body? Is your life made easier just because you eat healthfully? Could your life be better just from being healthy?
It's so Much More Convenient to Eat Fast Food
If you live in the United States, (I am referring to just life in America because that is what I know), there is a really good chance you have a very packed schedule. It's a funny one to think about but, did fast food become the billion dollar industry it is because we started filling our schedules so much? Or, did we begin filling our schedules so much because we didn't have to be home preparing our meals? This is a good question to ponder.
Okay, so, with an abundance of fast food establishments all across America, why should you bother taking the time to prepare your own meals when it is so much more convenient to grab food on the go? If it doesn't matter to you if you get three times as many calories from one fast food meal then a meal you would most likely cook at home. Most fast food meals are packed with almost as many calories as a person should be eating for the entire day. If it doesn't matter to you that you will get 33-74 grams of fat in one fast food meal? Which is about as much fat as any person should take in in 1 day. Also, the fat calories from fast food are usually from trans-fats and saturated fats and have negative effects to your liver, your heart, and your blood. These are not the healthy fats that our body needs.
Why would you care about eating healthfully if you have insurance and your bills will be covered anyway?
You pay for insurance, why shouldn't you just tap into it and let your insurance company cover your medical expenses? Okay, that's one way to think about it. But, realize that in the last few decades insurance companies have been paying out trillions of dollars. The increases in how much the insurance companies are paying for their insured has multiplied in the last few decades. This matters because it is these astronomical costs that are of course passed on to all of us. This is the reason we all pay an increasing amount to be insured.
Over the last 6 decades, the health of Americans has steadily declined. With that, of course, the medical costs increased. It is not coincidental.
Why should you eat healthfully when there are prescription medications for almost anything that could go wrong with your body?
Even if you are 70 years old, "popping a pill" is taken very casually.  Any person younger than 70 has been growing up in an environment that sees prescription medications daily, which allows most people to feel comfortable with them just because of their lifetime of exposure. Some of the exposure is by seeing friends and family members taking medications. Think about the kids now that are growing up seeing medications advertised on television…It is that exposure that breaks down barriers of trust and the thought of harm. Many people don't have the slightest hesitation about taking a prescription medication. The thought is, "Prescription medications have been around for decades now, they can't be hurting anyone, right?" This is where what you don't know can hurt you, even on the FDA website you can look and see the "Adverse Events Reporting" statistics. Here is the range, in 2004 there were 34,739 accidental deaths from prescription medications, and there were 198,828 serious outcomes. Fast forward to 2013, on the FDA website, there were 117,752 accidental deaths and 711,232 serious outcomes.
The better question then is, should you have healthy eating habits and take care of yourself now or just rely on pharmaceutical medications when you will need them?
Could Total Body Health Make Your Life Easier?
In many ways, yes. If you were healthy, if you had healthy eating habits, it could be easier to get up in the morning. If you were healthy, even your sleep could be better. If you were healthy, it would feel great to be able to go out for a walk or bike ride. It would be easier to do even the tasks and errands that you have to do if you feel good. Every aspect of your life filters through your brain with how you are feeling. If you feel good, everything you have to do is made that much easier. This is usually a point that goes unnoticed by many people, but it makes a crucial difference to your life.
Could your Life be Better Just From Being Healthy?
I think so. By being healthy and having healthy eating habits you have more time for fun if you don't have to go to many doctors appointments. If you are healthy, you will feel good and that means you will most likely be able to enjoy your life. Your brain is impacted by your health, if you are healthy your perspective would be different because there is a difference in the neurotransmitters and hormones produced in a healthy body than the neurotransmitters and hormones that are produced in an unhealthy body.
Bring on The Most Effective Diet
Everyone can have healthy eating habits. If you want to learn how to develop truly great eating habits that you and your family can stick to, take a look at Full Body 30 Day Vegan Cleanse. The sustainable eating plan that can change your life for the better!
Disclaimer
This book is not a medical manual. It is intended as a reference for a healthy lifestyle. The information is given to help you make informed choices about your health. This Cleanse is not meant as a substitute for any treatment that may have been prescribed by your doctor. If you suspect that you have a medical problem, you are urged to seek competent medical help. If you are pregnant or nursing, it is recommended that you do NOT do this Cleanse. This is not the appropriate time to make radical changes to your body. These herbal formulas are NOT to be used by a pregnant woman. All recommendations are believed to be effective, but since the actual use of herbs by others is beyond the control of the author, no expressed or implied guarantee as to the effects of their use can be given nor liability taken. The publisher and author expressly disclaim all liability connected with goods/services/ products obtained with this Cleanse. Any use of the information in this book is at the reader's discretion.
Notice: If you have a corn allergy, do not take these herbs. (They are processed with corn starch.)
All rights reserved. The content on this website may not be reproduced in whole or in part, without written permission from the owner, except by a reviewer who may quote brief passages in a review; nor may any part of this website be reproduced, stored in a retrieval system, or transmitted in any form or by any means electronic, mechanical, photocopying, recording, or other, without the written permission from the publisher. Cover photo: courtesy of William Short