Blog
Comments Off

on Plan to Be Healthy! You Can do it!
Being healthy doesn't "just happen" it takes a commitment, which means thought and then action. As noted in an earlier post, if you schedule your workouts, if you put them in your appointment calendar, you will get your workouts done. The same holds true with your meals though. Plan your meals. Don't just go out the door in the morning without a clear picture of what you will be eating during that day.
You know you will need lunch, you know you will need dinner. Many people leave it up to their co-workers to decide where they will be eating. If you have to eat lunch and/or dinner out, why don't you suggest the restaurant and already have in mind the healthy foods they offer. In fact, most restaurants have their menus online, so while you are in the mindset of committing to a healthy lifestyle, look at their menu ahead of time and decide what would be the best choice for you.
You might find that you are even inspiring your friends and co-workers and they too might start ordering those same items.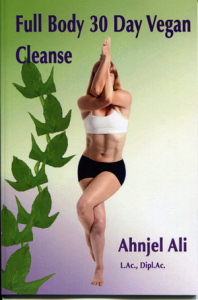 Disclaimer
This book is not a medical manual. It is intended as a reference for a healthy lifestyle. The information is given to help you make informed choices about your health. This Cleanse is not meant as a substitute for any treatment that may have been prescribed by your doctor. If you suspect that you have a medical problem, you are urged to seek competent medical help. If you are pregnant or nursing, it is recommended that you do NOT do this Cleanse. This is not the appropriate time to make radical changes to your body. These herbal formulas are NOT to be used by a pregnant woman. All recommendations are believed to be effective, but since the actual use of herbs by others is beyond the control of the author, no expressed or implied guarantee as to the effects of their use can be given nor liability taken. The publisher and author expressly disclaim all liability connected with goods/services/ products obtained with this Cleanse. Any use of the information in this book is at the reader's discretion.
Notice: If you have a corn allergy, do not take these herbs. (They are processed with corn starch.)
All rights reserved. The content on this website may not be reproduced in whole or in part, without written permission from the owner, except by a reviewer who may quote brief passages in a review; nor may any part of this website be reproduced, stored in a retrieval system, or transmitted in any form or by any means electronic, mechanical, photocopying, recording, or other, without the written permission from the publisher. Cover photo: courtesy of William Short